GuestRevu, a leading provider of guest feedback and online reputation management solutions in the hospitality industry, is delighted to announce the appointment of Paul Griffiths as its new Head of Sales.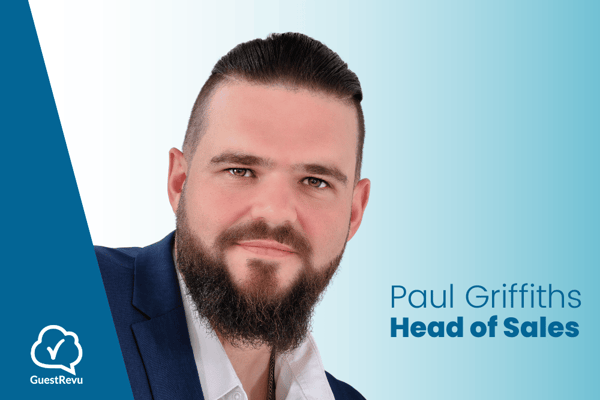 GuestRevu's drive for exponential global growth, particularly in the UK and European markets, necessitated the appointment of a new team member in the region. Following an extensive search, UK-based Paul was accepted into this role. He brings a wealth of expertise to drive sales initiatives and foster valuable relationships with both clients and partners worldwide
Chris Alexandre, Founder and CEO of GuestRevu, expressed confidence in Paul's capabilities, stating, "Paul is the perfect person to take on this important role for us. He has extensive experience in the hospitality technology industry and has worked with many of our most valued partners. We already know Paul well and have experienced first-hand his commitment to his clients and he will be an invaluable asset to our team as we continue to grow across the world, and we look forward to the next exciting phase of our business together."
Paul's early career included experience in the technology industry and in various sales roles. Ten years ago, he began working with hospitality technology, and since then he has spoken with thousands of hoteliers, gaining insights into the complex needs of the modern hotelier and helping them solve many day-to-day problems and optimise their services with technology.
Paul's extensive industry knowledge and prior collaborations with GuestRevu and its close partners, including Guestline's property management system, further enhance his ability to contribute to the company's growth and success. During his 8-year tenure with Guestline, Paul worked closely with GuestRevu, gaining an intimate knowledge of the product and the team behind the software.
Paul was also privy to individual hotels' interactions with GuestRevu and with suppliers of similar and complementary products. He recounts that "during the conversations with my clients who used GuestRevu, it was clear to see the easy-to-use nature of the GuestRevu solution and the benefits it gave them. I have always prided myself on my client-centric focus, and I believe this aligns perfectly with that of GuestRevu."
Paul also shared his excitement about joining the GuestRevu team, after witnessing their impressive achievements over the years. "Having worked alongside GuestRevu as a partner for almost 8 years, it was clear to me that they have a great team in place – something that is demonstrated by the fact that GuestRevu has been rated the number one review software as voted for by customers on HotelTechReport," said Paul. "The team's passion across all areas of the business, from sales to support, development to marketing, is truly inspiring, and I am proud to now be part of this exceptional organisation."
GuestRevu has grown from a fledgling start-up to an international leader in guest intelligence technology, with clients in over 92 countries around the world. When Covid-19 forced many hospitality businesses into hibernation, GuestRevu took the opportunity to develop a new free forever version of their award-winning online reputation management system, GuestRevu LITE. Now that the hospitality industry is back on its feet, the time is right for GuestRevu to continue on its growth plan, of which Paul's appointment is a critical part.
GuestRevu's exemplary product, services and support have also earned the company some exciting awards, including the coveted number 1 spot in the HotelTechAwards for multiple years running, as well as valuable partnerships with other cornerstone hospitality industry software providers.
As GuestRevu continues to expand its presence and deliver innovative solutions to the hospitality industry, Paul's appointment as Global Head of Sales marks an important milestone in the company's journey.