Every month, we delve into the latest trends in the hospitality industry, pulling resources from across the web together to help hoteliers understand and make the most of tools, technologies and ideas that are circulating. But it can often be difficult to see the impact that these trends have on other areas of the industry like food and beverage.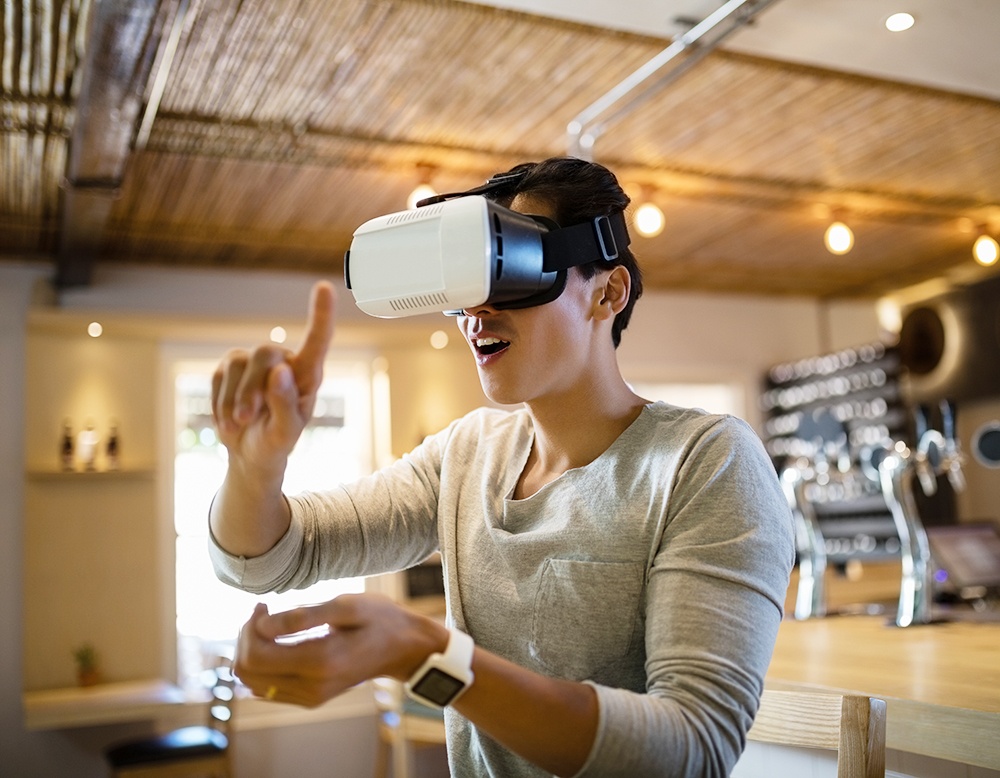 This month, we take a look at how this year's trends — virtual reality, accessibility, sustainability, self-service and conversational marketing — affect restaurants, pubs and other food and beverage providers. Let's dig in!
If hospitality is not the first thing that jumps to mind when you hear the words virtual reality, then food and beverage would be even further down the list. But as VR Scout point out, the trend of VR has certainly not been skipped by food and beverage providers like Spain's Sublimotion.
And Sublimotion are not the only company to experiment with virtual culinary experiences. CNET recently reported on Royal Caribbean's intention to incorporate virtual reality dining into their cruise experiences together with virtual environments in their cabins.
Read the full VR Scout article >>
Read the full CNET article >>
From virtual realities, we move on to the realities that are faced daily by patrons with disabilities. From inaccessible entrances and impossible to navigate bathrooms, to unreachable tables and unreadable menus, Rewards Network looks at problems that are often faced by disabled diners, and how they can be resolved with the help of pre-thought and planning.
If the plight of plastic straws has reached you recently, then you'll already be aware of the push for sustainability in the food and beverage sector. But sustainability goes beyond doing away with single use plastics, and relies on reducing your impact on the environment. The National Restaurant Association spoke to over 500 restaurant owners and operators, and over 1000 consumers, to determine the best practices for sustainability in the food and beverage industry.
The idea of self-service will hardly be considered a new one to food and beverage providers, considering the abundance of buffets on offer, but thus far self-service kiosks have mostly been limited to the fast food sector of the industry, where speed is the order of the day. However, as Fast Casual point out, convenience is not a passing trend.
Though Fast Casual do focus on the quick service restaurants, there can be no doubt that self-service can be applied throughout the food and beverage industry to assist with bookings, ordering, payments and so much more.
Read the full opinion piece >>
We all understand the value of communicating with guests and patrons, but answering the question of "what time do you close?" 15 times a day is neither a useful, nor an enjoyable use of any employee's time. This is where chatbots come in handy.
Investing in a chatbot for your restaurant, bar or pub can be a great way to start having conversations with your guests, without needing to have dedicated staff to reply to messages that you get. But with a seemingly relentless stream of chatbots on the market, how do you know which one to invest in? This is why TechEmergence have put together a comparison, looking at the top five chatbots being used in the food and beverage sector.
Want to hear about the latest tips and trends first? Subscribe to our blog and get hospitality news straight to your inbox. Click on the banner below to subscribe.