Following the analysis of more than 60,000 reviews of hundreds of hotels in 37 countries collected over three months, the GuestRevu GREAT Awards have unveiled the hotels shortlisted for these highly anticipated awards in six categories.

In a unique approach, the GREAT Awards are not determined by judges, but by the guests themselves, using aggregated guest feedback data from major online review sites to determine the leading hotels. The winning hotels will be selected from the following shortlist and will announced at the GREAT Awards ceremony at the Good Hotel in London on the 23rd of November.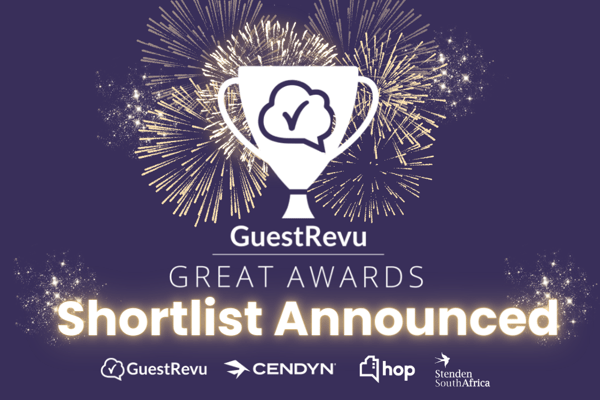 GuestRevu GREAT Awards Shortlisted Hotels
The shortlist for the GREAT Awards has been determined based on publically available online reviews of participating hotels from the three biggest online guest review sources: Google Reviews, Booking.com and Tripadvisor, which were collected and consolidated using GuestRevu LITE, the free version of GuestRevu's award-winning reputation management software for hotels. This ensures fairness, transparency, and impartial results, and makes the awards an authentic reflection of the quality of service and guest experiences at each nominated venue.
To ensure objectivity, fairness, and transparency, the Hotel Management School of Stenden South Africa oversaw the data collection and review for the GREAT Awards. Dr Wouter Hensens, Executive Dean of Stenden South Africa, was instrumental in ensuring that appropriate academic rigour was applied to the analysis of the data. Having recently co-authored a book on online reviews in the hospitality industry, The Good, The Bad, and The Emoji Mastering the Art of Review Data, Dr Hensens was uniquely positioned to understand the data illuminated in the thousands of reviews collected during the GREAT Awards.
"Over the last decade, online guest reviews have had an increasing impact on the global hospitality industry," asserts Dr Hensens. "They have made it easier for consumers to access information about hospitality businesses, and this increased transparency has empowered consumers to make more informed decisions based on feedback from other guests."
With regards to the process, Dr Hensens was tasked to ensure that the data collection and interpretation were fair and consistent: "We have paid particular attention to the number of reviews and the weighting of reviews as they were sourced from different platforms. Having reviewed the data I believe that these awards directly reflect the appreciation of the guests that have stayed in these properties and thus their authentic voice."
"At GuestRevu, we manage massive amounts of data on behalf of our clients, and so we are familiar with the industry averages and benchmarks. The review scores some of the contestants have been getting have really been remarkable," adds GuestRevu founder and CEO, Chris Alexandre. "It's been very rewarding to see the calibre of the contestants shine through in the data we have collected during the GREAT Awards, and all the contestants can be very proud of what they have achieved in the last few months."
Representatives from the shortlisted hotels are invited to attend the glamorous GuestRevu GREAT Awards evening at the Good Hotel in London on 23 November. Thanks to sponsorship by industry-leading hospitality technology providers Cendyn and Hop, the awards ceremony promises to be a spectacular and unforgettable occasion. It is a night for the hotel industry to come together, celebrate their successes, and honour the outstanding efforts of hoteliers who have earned the trust and loyalty of their guests.
"The awards recognise hotels that provide excellence in guest experience, and we are proud to be a part of that," says Nicola Graham, VP of Marketing at Cendyn. "Through the GuestRevu and Cendyn partnership, we continue to foster our objective of empowering hoteliers with integrated technology and services that enhance the guest experience and drive profitability."

"Hop is proud to be a sponsor of the GuestRevu GREAT Awards, because now more than ever it's so important to recognise the leading properties in the accommodation sector and those that go above and beyond for their guests," agrees Sharon Smith, COO at Hop.
About GuestRevu
GuestRevu helps hospitality professionals to listen to, learn from and earn from their guests by enabling them to leverage the power of their guest data to build lasting loyalty and drive revenue. GuestRevu's mission is to give hospitality professionals award-winning tools that they can use every day to develop a guest-centric culture, optimise their guest experience, and the running of their business and, ultimately, drive revenue using online surveys and reputation management. GuestRevu offers local support in South Africa and the United Kingdom and is a Tripadvisor Platinum Review Collection Partner.
About Cendyn
Cendyn empowers hoteliers with integrated technology and services that enhance the guest experience and drive profitability. Cendyn is a catalyst for digital transformation in the hospitality industry. We help hotels around the globe drive profitability and guest loyalty through an integrated technology platform that aligns revenue, eCommerce, distribution, marketing and sales teams with centralized data, applications, and analytics, so they can capture more demand and accelerate growth. With offices located across the globe, in the United States, Germany, United Kingdom, Singapore, Bangkok, and India, Cendyn serves tens of thousands of customers across 143 countries.
About Hop
Hop is a cloud-based property management solution for the hospitality industry, including independent hotels, hotel groups and self-catering accommodation and provides solutions globally, Hop offers a Channel Manager, commission FREE Booking Engine, Property Management tools such as a Housekeeping module, real-time Revenue Management, Event Management, CRM and many other hospitality service integrations such as Epos, Locks, TV's and Accounting Software.
About Stenden University
Stenden South Africa is a Private Higher Education Institution and an international campus of NHL Stenden University of Applied Sciences in The Netherlands. It has built a reputation for offering premium higher education to the African market and being a strong catalyst to its surrounding communities whilst providing internationalisation opportunities for hundreds of European students annually. Its BCom Hospitality Management programme enjoys benchmark status on the African continent whereas its BBA Disaster Relief Management has opened a unique pathway to feed the Disaster Management sector with much-needed professionals who can hit the ground running. Stenden South Africa's credo of Unleashing Potential is visible in the exceptional career paths of its graduates.