The erratic nature of job security brought about by the pandemic is a harsh reality that no hotelier could have foreseen the extent of – until we were all knee-deep in it. According to BigHospitality, COVID-19 resulted in at least 660 000 hospitality jobs being lost in the UK throughout 2020. This unpredictable period took a large number of high-profile positions along with many more lower level positions.
A year later, hoteliers are dealing with a skills shortage in the sector. In our recent poll on LinkedIn, responses from hospitality professionals showed us that staffing was the main challenge with reopening, as it claimed 76% of the results against three tough contenders.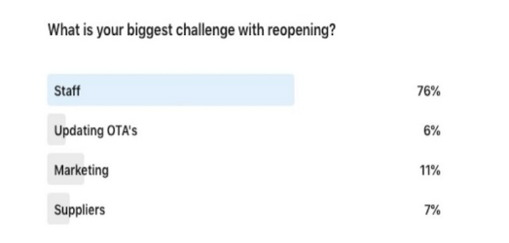 To help hoteliers optimise their staffing and hit the ground running once they reopen, we've selected a shortlist of top tips to consider while strategising how to find and keep top talent that's fully invested in the future success of your hospitality business.
1.
Prioritise employee wellbeing
The holistic wellbeing of hotel employees plays a crucial role in the success of any property, because it directly impacts the experiences that guests have. Happier, healthier people are more enjoyable to be around and are likely to be more attentive and engaging, regardless of whether that person is checking you into your room, serving you your beer, or drinking it with you. But what can management do to ensure that staff are staying afloat in this uncertain work environment?
Techniques and applications may vary by sector, but we encourage hoteliers to consider the views in this blog by Ernst & Young, which speaks broadly on how leaders can protect employee wellbeing during COVID-19. Some of the pointers in the blog include:
Keep honest and genuine lines of communication open with employees.
Keep an eye on your team's performance, reach out if anyone shows signs of struggling.
Motivate employees by setting attainable short-term goals they can visualise and achieve confidently.
Provide your employees with the tools they need to improve and upskill.
Encourage employees to go the extra mile naturally, even when you aren't watching.
The key to these strategies is ensuring your team feels well taken care of, and boosting their confidence in the roles they play; while showing them that they are valued and will be around for the long haul. They should also feel motivated enough to compete healthily with their colleagues when it comes to performance, and they shouldn't have to look far for that motivation.
Hotel brands like the Coaching Inn Group have used the power of guest feedback tech to motivate excellence in their team, and having those tools to visualise the direct impact staff have on guest experience made a big difference to their positive mindset and performance. Adopting a suitable employee wellness program to put your staff at the centre of the guest experience will help towards retaining your staff, and keep them doing their best at all times; and your guests will thank you for it.
2.
Include more accommodative HRM practices
Hospitality is a daunting career path to take in general, with its fast-paced nature and the individual adaptability needed to cater to every whim of hotel guests. Add a global pandemic to the mix, and it can be complete chaos and anxiety every day for a hotel employee.
Fears of contracting COVID-19 at work; children unattended at home because schools are closed; looming job loss because hotels are closing, reducing shifts or downsizing teams. There are countless worries that employees endure inside and outside of work, but innately bring to your doorstep when they clock in. They are part of why a large number of skilled hoteliers have ended up choosing completely new career fields in response to the pandemic.
To close the hospitality sector's skills gap, human resource managers need to switch from outdated labour techniques to more accommodative strategies that assist the different work/life balance needs of employees, especially when it comes to their time management. Some of the changes to be considered include:
Adjusting rosters and shifts to ensure they are mutually beneficial to the establishment as well as the team.
Amending policies on leave.
Incentivise employees who go the extra mile, take an extra shift, or handle tasks that weren't theirs to begin with.
It's time for hoteliers to employ human resource management practices that are fit for the volatile and complex nature of the work environment that comes with the 'new normal', and adapt to what is needed by the workforce to thrive in it.
3.
Create a database for skilled temporary labour
Hospitality is an industry that thrives on attention to detail, so it's no wonder that staffing top talent is a key element in the process of delivering outstanding service consistently. With many hotel brands having to start recruitment almost from scratch because layoffs diminished their workforce, it may be a viable option for many properties to start off with temporary labour to support a core team of existing staff.
Hospitality recruitment agencies can save you time by finding short-term staff for you; especially if you need people who can perform in different roles, this approach can save you some of the labour costs while at it! Taking this task-oriented labour approach will help to navigate the scheduling and rotating of shifts, without spending too much time on training and development.
Having access to temporary labourers for time periods anywhere between a few hours up to 12 months (according to occupancy levels) means that properties can be more in control of how they will handle fluctuating guest volumes. There are other channels to find passionate hospitality people to work with temporarily, like the new up and coming hospitality community in the UK, Otolo. This free, government-backed platform has over 800 members at varying stages of their careers, looking either for mentoring to help further their careers or for mentees to coach and give back to their industry.
The platform includes discussion groups, forums, events and messaging boards, where members can meet each other, find people with similar interests, share articles and insights, and work together to build their skills. James Lemon, CEO and Founder of Otolo, said: "Despite the difficulties hospitality and its people have faced over the past year, at Otolo we are excited by the industry's future. Hospitality will rebound stronger with an engaged and skilled workforce that is passionate about getting back to what they love – which is creating memorable experiences."
Project Save Hospitality is another movement that aims to endorse the wide range of skills possessed by hospitality professionals. The group wants to achieve this by showing the world how people can transfer their hospitality-oriented skills to other industries. As a group, their ultimate goal is to foster professional development which will include resume writing assistance, job coaching and the execution of a Virtual Career Fairs. Communities like these ones are where to find the 'gems' for your temporary staff, and property leaders who build relationships here and follow the conversations as they begin head hunting, may be more rewarded in the rebuilding phase of the hotel industry.
4.
Review expected guest volumes
With robust vaccine rollouts, COVID-19 travel restrictions are changing quite regularly for business and leisure purposes. The tantalising promise that things will open up soon, is a delight for hoteliers and all the people who've had strong travel interests since last year.
However, it's still a tall order to anticipate the appropriate amount of staff needed to meet the demands and volumes of guests to hopefully start coming in over the next few months, and a strategic mindset from property management will do well here to mitigate the labour costs involved once reopened. This reaffirms the hurdle that staffing presents, and hoteliers need to find proactive staffing solutions to maintain service levels, even though some may be temporary at first.
Hoteliers that have highly adaptable staff should use short-term staffing models, and review expected guest volumes on a weekly basis or every three days, instead of the previously more drawn-out staffing schedules. This will afford HRM the flexibility to adjust schedules according to the trend of guest volumes as they come, without raising employee hopes too high nor keeping them at home for too long.
This strategy is best suited for those properties employing temporary workers, as the temp staff will have already grasped the nature of their shorter schedules and are readily available at flexible hours. Hoteliers should learn to also lean on guest feedback to help gauge the effects of new staffing structures, and review expected guest volumes.
Ruth Durking of The Ambleside Salutation Hotel & Spa, said, "We worked with GuestRevu on a bespoke guest survey to gauge our guests expectations about the hotel once we reopened after lockdown. The whole process from design, delivery and the collation of results were more than we could have expected, giving us valuable feedback for us to move forward". In a time that needs properties to be responsive to the development of the post-covid travel environment, tech partners should be equally creative and agile, working with clients to develop appropriate solutions.
5.
Counter the labour shortage with upskilling existing staff
As a new dawn approaches the travel sector talent pool, it has become more important to be tactful in the way we nurture existing staff. As seasoned as your staff members may be, they need to stay relevantly equipped to compete in the new normal, and you will need to train them further to replenish the service levels they plough back into your property.
Training and development needs vary from property to property, and they can be related to technical skills like COVID-19 protocols, to soft skills training. Business World mentions soft skills like leadership, agility, and stress resistance, amongst others that are in demand.
And apart from allowing hospitality workers to manage their mental health, these skills are valuable in dealing with customers and colleagues; and they present opportunities for revenue growth through upselling and enhance employee satisfaction.
Depending on the finances of your property, you may either target staffing areas to train or retrain first, if you can't afford having all your employees trained at once. There are many costs associated with training and development, such as training materials, supplies, certification programs and instructor fees; but the investment in staff development will always be worth it in the long run.
Besides the process of upskilling, hoteliers should nurture the long term relationships they have with existing staff, because those are the people who stuck it through the pandemic and chose to remain with your brand, in spite of a rocky period. That loyalty shown by existing staff should be met with clear plans on how they are to be retained and will progress in the long run.
People aim to keep a steady career path they can grow into, with a path to promotion they can visualise and ready themselves for, and giving that to them increases the level of engagement and accountability you'll get from your staff, because they know they have a future with you that they are building. Taking this long-term approach will also save you the labour costs of having to recruit new labour every year, and your staff will perform better.
6.
Introduce competitive salary packages
With the hospitality industry promising to gain momentum quite soon, skilled hospitality professionals that may have been recently laid-off, will now be getting more employment offers than ever before. This is why salaries in the UK industry have taken an increase since last year (4% on average), and it indicates the demand for skilled labourers in hospitality.
Hoteliers need to look at their KPIs and where the staffing shortfalls lie, in order to attract or retain top talent with competitive salaries. In recent findings by Reed Hospitality, roles that had the largest salary increases in the sector include commis chef (8.2%), duty manager (7.6%) and head chef (6.8%).
Sam Baldwinson, Reed Hospitality and Leisure expert, said: "While some may have stuck it out in the hope of a return to normal, unfortunately many skilled workers have left the hospitality sector for industries less disrupted by the pandemic. This means that firms will need to work hard to ensure their remaining employees feel valued".
The recruitment space will likely be more competitive moving forward for hospitality; and due to the economic impacts of the pandemic along with the current skills gap, financial remuneration will likely play a larger role than before. It's important that hoteliers who aim to retain and attract top talent prioritise employee satisfaction, along with the many compromises that may come with it.
Staffing may change and involve more temporary labour at first, to adjust to the unpredictable guest volumes on the way while cutting labour costs. Maintaining service levels will also depend on having skilled talent that can be nimble enough to take on different roles, and keeping staff well paid and well trained will increase guest satisfaction altogether.