When it comes to online reputation, reviews are undeniably influential for any business, but especially for hotels. Travellers don't have an opportunity to "try before you buy", so they must rely on reviews from past guests to get a sense of their experience.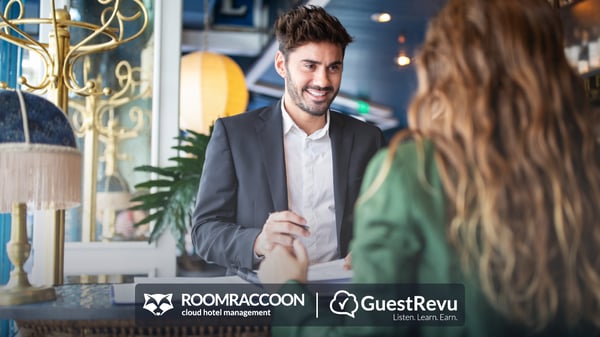 Although you can provide potential guests with intriguing descriptions and spectacular pictures of your hotel, they recognise that you will be presenting your property in an ideal way; reviews offer an objective perspective. Research by Expedia Group found that 73% of travellers read online reviews before booking a trip, and 72% are more likely to pay more for a hotel with higher guest ratings.
For hotels struggling to build a solid online reputation, we invited GuestRevu to share 5 tried-and-true online reputation management strategies. These practical approaches can help any hotel increase its digital presence and elevate customer reviews.
What is Online Reputation Management (ORM)?
Online Reputation Management (ORM) involves managing your hotel's online brand in relation to reviews and ratings in the online space. In the hospitality industry, this mainly involves monitoring and responding to your hotel's online reviews on one of the many specialised travel review websites popular with travellers today, such as Tripadvisor, Google Reviews, and Booking.com.
Once you understand how your brand is portrayed on these sites, you can analyse how your online reputation changes over time or impacts your business and develop strategies to optimise or maintain it.
"Your online reputation is the window into your business for prospective guests."
Online reputation management is a crucial element of any hotel management strategy. With the modern guest turning to online channels for everything from travel inspiration to placing and paying for their bookings, your online reputation is the window into your business for prospective guests.
5 Strategies to Build a Positive Online Reputation in 2023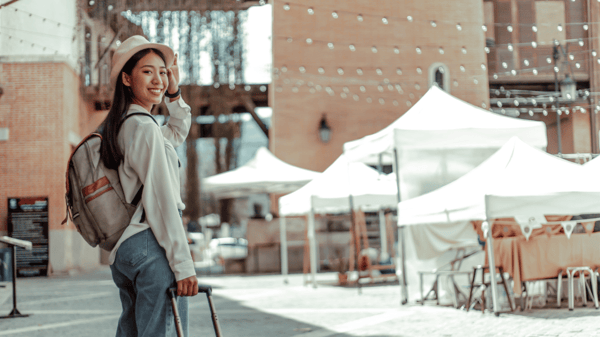 1. Monitor your hotel's online presence and rating on popular OTAs
Channel management software has made it incredibly easy for hotels to sell and promote their inventory through multiple online travel agencies (OTAs) such as Booking.com, Tripadvisor, and Airbnb. But it also means they have more review sites to monitor and face the difficult task of keeping track of them all.
When travellers research and plan trips, one of the most obvious signs that customer service has not been up to standard is when reviews - regardless of whether they are positive or negative - have been neglected.
Customers expect a response to their reviews within 24 hours, and delaying a response could lead to further dissatisfaction. Not to mention that OTAs like Expedia even go as far as to score the hotel's response time to post-stay reviews.
Online reputation management (ORM) software allows hoteliers to quickly and easily monitor reviews collected from top review sites and display them in one dashboard to streamline the response and monitoring process.
What are the key benefits of ORM software for hotels?
Powerful ORM software such as GuestRevu has two key benefits: it saves you time and allows you to spot patterns in your guest feedback data that would otherwise have been difficult to identify.
1. ORM software collects your reviews in one place.
It notifies you when you have new reviews (either immediately or in an activity summary at set times, depending on your preferences) and provides a quick way to respond to the review, either from within the ORM software itself or (if the review site does not permit this) by linking you straight to that review platform.
2. ORM software gives you an easy way to spot trends or patterns in your guest feedback data
Because ORM software collects all your reviews into one place and aggregates them, you'll see patterns that may have been difficult or impossible to notice otherwise.
Example: Some review sites use a five-point rating system, some use a 10-point scale, and others use per cent. To compare or analyse your overall performance, you need to normalise these scores first – ORM software does this for you.
It also does the same with far more complex data like review sentiment and records all this data in one place. It then presents the data in graphs and tables that make it easy to digest and draw inferences from. An example of the GuestRevu ORM dashboard is provided below for your reference: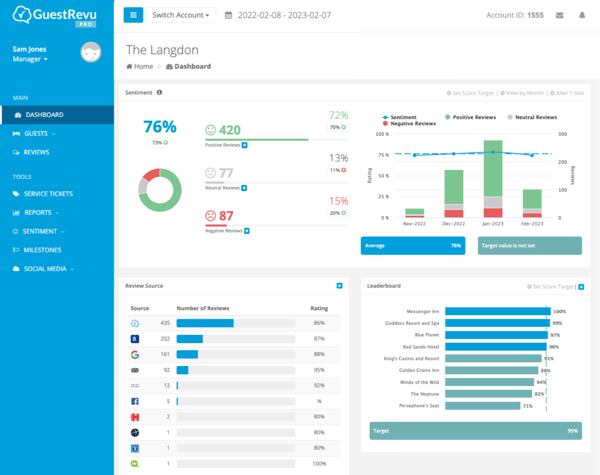 If you want to see what ORM software is capable of but aren't ready to commit, GuestRevu offers a free forever version of their software available here.
2. Engage with customers who have posted reviews of your hotel, whether positive or negative
Are you finding it difficult to respond to a negative review your hotel has received? You may also be overlooking some guests' positive comments about your property.
Studies suggest that when you take the time to engage with these reviews, it increases trust from prospective visitors, as they feel assured that you care about their experience.
GuestRevu interviewed experienced hoteliers who shared their top tips on how to respond to reviews:
Tip 1: Take the time to formulate a unique response for each review
When guests take the time to share their compliments or complaints, they expect you to respond with something that is tailored specifically to them. A generic, formulaic response can easily be spotted by travellers who are actively reading them online, so giving each review a unique and personal message is far more effective for establishing and maintaining your brand's image.
Tip 2: Express appreciation for positive reviews and use them as Social Proof
Acknowledging positive reviews is an important online reputation management strategy that shows prospective guests that you take pride in delivering satisfactory service. It's equally important to take advantage of the positive reviews on travel websites and use them as Social Proof for your hotel. This can be done by utilising those same reviews on your website (think rating badges) and social media channels.
Tip 3: Respond to unsatisfactory reviews with empathy and honesty
Rather than being discouraged by a negative review, embrace the chance to view the issue from a customer's perspective and thank them for their feedback. It's important to show sympathy and address the problem.
By responding, you are not only talking to the reviewer, but you're talking to anyone who sees your online reviews. Never address critiques made with a defensive response; strive for a trackable outcome instead. If possible, you should also edit your response with an update on what has been done to resolve the issue.
This demonstrates your capability to take constructive criticism on board and make changes for future guests, which can benefit guest retention rates.
3. Watch for recurring themes that indicate your marketing messaging may set unrealistic expectations
One of the main sources of unsatisfactory reviews that are often overlooked is the hotel's marketing messages and visuals.
For example, hotels may oversell the quality of their rooms with limited or overly curated photos on their website. It's important to use a customisable hotel booking engine that allows you to include a sufficient number of images to promote all the important angles of your guest rooms.
For successful online reputation management, you should take note of any differences between how you promote your business and customer feedback. Watching for these discrepancies on an ongoing basis can help ensure your marketing efforts align with customer expectations.

RoomRaccoon hotel booking engine
4. Encourage satisfied guests to leave reviews on popular travel websites
Hotel guests make the ideal cohort when it comes to obtaining reviews; their pleasant experiences make them content and willing participants in providing feedback. In fact, 4 in 5 hotel customers who have been asked to leave a review do so, according to the latest booking statistics.
Asking your guests for a review of your hotel should be an effortless process. If you already send guests a post-stay note thanking them for their support, include a link and ask them to leave a review of their experience on your OTA listings.
With advanced ORM systems like GuestRevu, you can take it a step further and allow guests to publish reviews directly from a guest feedback survey. (See strategy #5 for more on surveys.)
Actively encouraging guests to leave reviews will help to improve your hotel's online reputation by amping your overall review scores on important travel websites.
Let's look at how different travel sites facilitate hotel reviews:
Booking.com:
Guests select an overall score from 1 to 10 to rate their experience. The average of these overall scores makes up your Guest Review Score. In addition, guests can give separate 'subscores' in crucial areas, such as location, cleanliness, staff, and free Wi-Fi.
Airbnb:
On Airbnb, you need to get 3-star ratings before your overall rating appears on your listing or profile. You will also be recognised as a Superhost if you achieve a 4.8 overall rating or higher, among other criteria.
Expedia:
A single hotel review can have a major impact when posted on Expedia's website. After 90 days, these reviews will be displayed not only on Expedia but also on its associated sister companies, Hotels.com, Vrbo, and trivago, as part of their shared marketplace.
Tripadvisor:
Tripadvisor's Popularity Ranking is based on the quality, recency, quantity and consistency of reviews a hotel receives from guests. These factors impact your position in the ranking for traveller recommendations.
5. Continuously strive to improve your hotel's service and amenities
Rather than simply addressing negative reviews, an effective long-term online reputation management strategy should involve gathering guest feedback before its publicly shared. Doing so can improve the guest experience while ensuring prospective visitors are presented with a realistic view of your hotel's service and amenities.
Analysing guest feedback helps identify any shortcomings in your operations so that more guests are encouraged to sing your praises online. It can also help you with important decision-making. For example, would more guests prefer mobile check-in?
Guest feedback surveys will help you make informed decisions based on what guests really want, saving you long-term costs and naturally improving your hotel's online reputation.
According to GuestRevu's data, common guest suggestions include boosting the WiFi signal, providing free parking, and maintaining a high standard of cleanliness.
When is the best time to send a guest survey?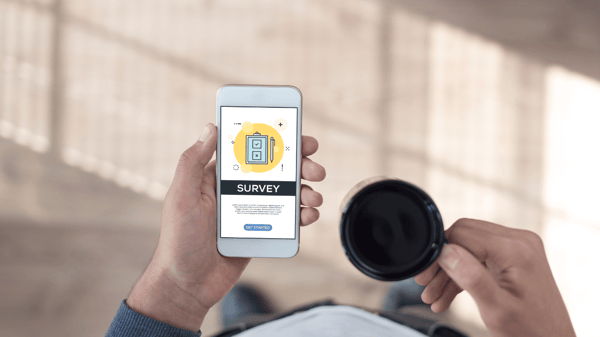 The best time to send a guest survey will depend on your hotel and the type of guests you usually entertain.
Post-stay
Post-stay surveys can be triggered immediately when a guest leaves or two to three days after they check out. Taking prompt action will ensure the experience is still fresh in their mind, while waiting too long may give them time to become busy with the usual distractions of everyday life.
GuestRevu suggests experimenting with both options and monitoring what works best for your hotel.
Pre-stay
Pre-stay surveys should be triggered as close to the guest's visit as possible while still allowing yourself time to act on any instructions or preferences the guest requests.
In-stay
In-stay surveys should ideally be available to guests at all times, for example, by placing a scannable QR code in their rooms, so that guests can complete them if and when it suits them without having their holiday interrupted.

5 Tips to Improve Your Guest Survey Response Rates
GuestRevu shares their top five tips to improve your guest survey response rates:
Optimise the subject line of your email. The sender's address and subject line are the only information guests have to decide whether they will open your email. Try changing it to include words they recognise, such as their own names or your brand name, or appeal to their good nature by asking them to help you or do you a favour.
Don't make your email too long. You're already asking your guest to give up their time to help you, don't waste it by being too wordy in your email.
Include a starter question embedded in your email. This way, you give guests something to click on immediately to prompt them to continue the survey. Also, even if guests only complete the question in the email, at least you get some feedback.
Experiment with when to send the survey. See if you get more responses if you send it straight after checkout or if it's better to wait a few days.
Send a reminder email, and experiment with that one too. Many guests won't act on a survey the first time they see it but are happy to do so when reminded. Obviously, you don't want to spam or annoy your guests, but they will very seldom begrudge you one reminder.
Final thoughts
It's important for hoteliers to take care of their online reputation to attract more guests and make informed judgements on which services can be improved. Taking the time to do simple things, such as responding to guest reviews and encouraging guest feedback, can make a huge difference in your hotel's online reputation. Set your business up for a stellar online reputation and integrate RoomRaccoon's hotel management system with GuestRevu to save your team valuable time and boost your bookings.
This blog was originally published on RoomRacoon's blog and reshared here with their permission
About RoomRaccoon

RoomRaccoon is an innovative all-in-one Hotel Management System that provides hoteliers with all the tools they need to manage their property at the click of a button. Designed by hoteliers, the cloud-based system comes with a host of exciting native tools that work together seamlessly to unlock new ways to generate revenue, streamline property operations, and enhance the guest experience. And with its extensive marketplace, hotels can easily integrate with their favourite tools and applications. In 2020 and 2021, RoomRaccoon was awarded as the All-in-One Best Hotel Management System in the World at the HotelTechAwards.