If your hotel needs a guest survey or online reputation management tool, you can't do better than GuestRevu, according to the hoteliers who voted in Hotel Tech Report's 2022 HotelTechAwards. GuestRevu competed in two categories, winning both Best Guest Surveys Software, and Best Reputation Management Software.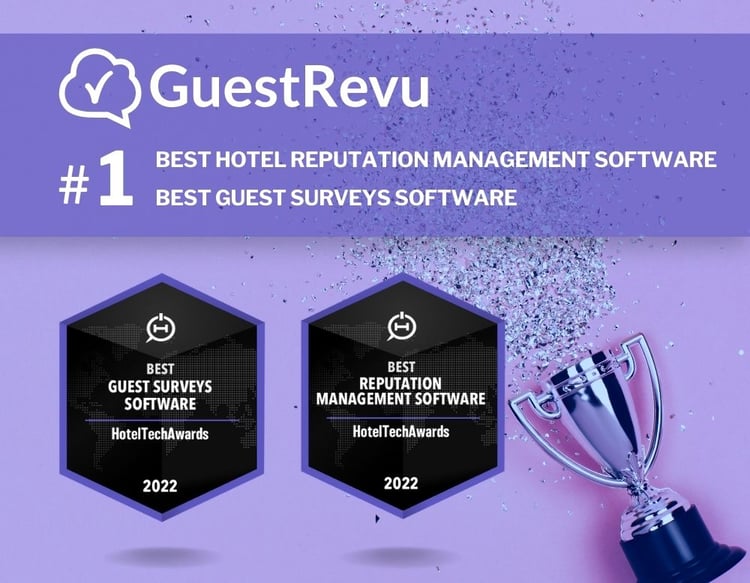 "We put our clients and their needs at the centre of everything we do, and their experience with the product and their input into the ongoing development of GuestRevu's suite of solutions is paramount to us," says Chris Alexandre, founder and CEO. "So the HotelTechAwards are particularly meaningful to us, as they are awarded based on feedback from real customers and the people on the ground who use the solutions."
The HotelTechAwards determine the best hotel software products across every category, based primarily on customer feedback, along with other key data points such as integration compatibility, organisational health, market share, partner network strength, and customer support quality.
"This isn't a subjective list based on a few peoples' opinions, Hotel Tech Report analyzes more than 100,000 data points to determine the best products in the market," explains Hotel Tech Report CEO, Jordan Hollander. "The ranking process is simple, transparent, and unbiased – judging is based on time tested ranking factors developed specifically for the industry. Only verified hoteliers with hands-on experience using each product are allowed to participate in the voting process."
Over 11 000 reviews written by hospitality professionals from every major hotel brand and thousands of independents between 1 September and 15 December 2021 were used to determine which of the 2 232 companies listed on Hotel Tech Report would win each category.
With customers in more than 45 countries, 57 integration partners, and, most importantly, a "likelihood to recommend score" of 94%, GuestRevu ticks all of the boxes to claim the number one spot in this fierce competition.
Clients were particularly complimentary about the after-sale support they receive from GuestRevu. In one review, the Head of Marketing and Digital in Mauritius mentions the "Amazing customer support. Very reactive and proactive, they follow up to make sure that you are making the most out of this service. They took complete charge of the integrations with our PMS support team."
One Revenue Manager from a Boutique hotel in the UK also highlighted how much simpler and quicker GuestRevu makes communicating with guests, saying "GuestRevu has streamlined our Guest Feedback process and is more or less a one stop shop to manage our guest reviews. Easy to use and a massive timesaver."
GuestRevu also makes it easy to act on this information "GuestRevu enables us to pull monthly reports on feedback which means we can see what areas are doing well and which areas we can improve on. Every department can continually better themselves and ensures our guest experiences is the best it can be," says a Reservations Manager in South Africa.
As we continue to evolve our solution according to the needs of our clients, we hope to expand our horizons and make many more hoteliers' lives a little easier. While we play our role in helping the industry recover, our clients have our world-class support to make sure they listen to, learn and earn from their guests. Online reviews are vital for attracting potential clients, and especially in times of contactless communication hoteliers need solutions that assist them in keeping guests coming, understanding their expectations and leaving satisfied.
We can't thank our clients enough for their continued support and valuable feedback that earned us these awards, and we hope everyone has a busy year ahead with great reviews, and solid reputations!