No matter how hard you try, it is impossible to keep all of your guests happy all of the time, and the busy times of the year are often when things slip up and reviewers can be particularly harsh with their criticisms. To help you keep your chin up during high season, we took a look at the most critical reviews of London's top 10 hotels. If guests can find something to gripe about in these hotels, you can be assured they will find something to complain about anywhere.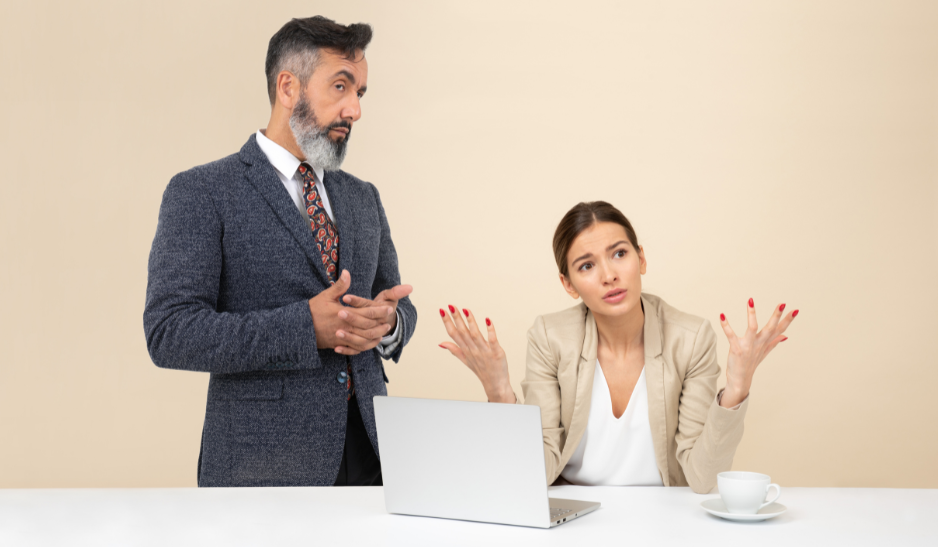 The Bloomsbury Hotel
While some of the guests seem to really enjoy this 5 star hotel with one guest Lesley Lokko even stating it is the "Best hotel in London". With all the renovations that the hotel has completed over the years, one would think the reviews would skyrocket. Unfortunately, the new decor is not to everyone's tastes…
In his review entitled "Management's clumsy redecoration destroyed this once grand hotel", Andrew C shares his invaluable opinion on the refurbishments, stating "The decor, especially the pictures are dreadful. Whoever was in charge of the decor should be fired. Gauche, trendy and tasteless."
And although he didn't disparage the decor, Colin D was upset by the size of the rooms, warning others: "Don't take your cat as you will never have room to swing it , well not in the room my wife and I shared any way. This was the second room offered as the previous one was a converted cupboard !"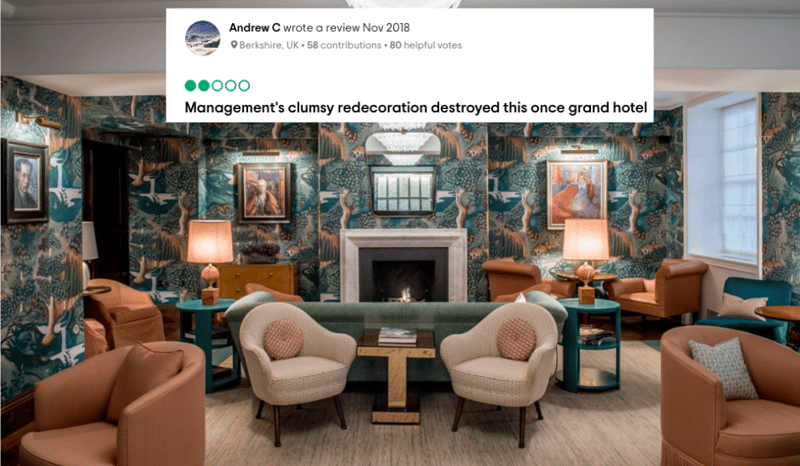 The Savoy Hotel
The Savoy Hotel, which has been heralded as one of the best hotels in Britain and has been in operation since 1889, can certainly pat itself on the back with its 5600+ excellent Tripadvisor reviews. However, as we have noticed, not everyone is universally impressed by the world's bests. GeraldineOttawa indicated that she was "disappointed" with the hotel mainly with their "tacky" decor. "As for the decorations: tacky is all I can say. Artificial autumn coloured leaves do not, in and of themselves, make a decoration!". While some guests did not like the decor, others were unimpressed with the sandwich selection, and BobM was left feeling out of this world when trying to enjoy his afternoon tea, "we did not like the sandwiches at afternoon tea when i asked could we have cheese of ham i was looked at like i was an Alien".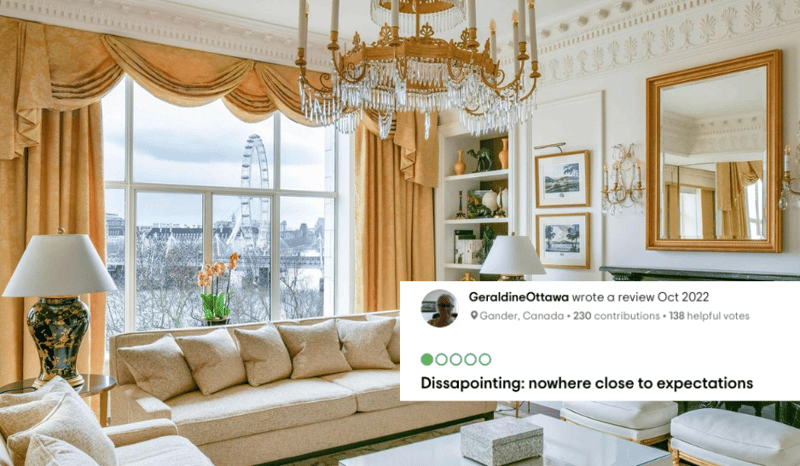 The Four Seasons London
Even with all of our investigative digging it was difficult to fault the Four Seasons in London, in fact they have a grand total of 8 terrible reviews. That being said, one traveller, RichH, felt compelled to comment on an aspect of hotelkeeping that any hotelier knows can make or break a guests' stay – the cleanliness of the hotel: "This hotel is new and therefore looks clean. But that's also what I don't like; it's too clean!"
The Edition London
The Edition is blessed with an abundance of positive reviews and lovely guest comments. But paying for the privilege of staying here? Madness! João C expects a present for his mere presence, and us upset that you can't expect much for free here (at, to be clear, one of London's top hotels): "The only "free" thing i got was water bottles (warm at times); there was no chocolate / mint for turndown service, no welcome note or gift"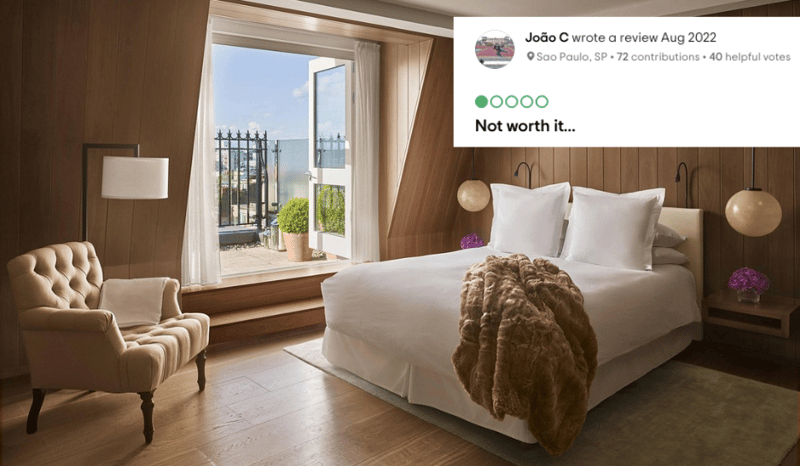 Sea Containers London
It seems that for the fussier guests, decor and ambience seem to come under fire from all angles. The Sea Containers in London is loosely influenced by, well the sea, and container ships. Unfortunately, the decor hasn't lived up to Abitner's standards; "Decor felt cheap and cheesy, very dark and moody." And it seems to have missed the boat completely for Clightdc; "Second most dangerous place was the lobby -- lit to look like the interior hold of a cargo ship".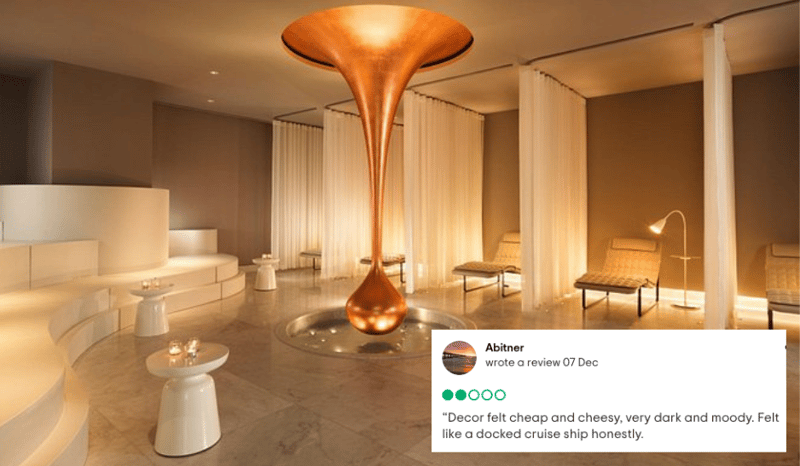 Conrad Hotel London
The Conrad Hotel, also listed as one of London's premier hotels, seems to be likeable enough, for most. But Karen (yes, that's actually her name) found the perfume used to scent the communal areas offensive, stating that "Cheap scent hits your throat throughout communal areas." While PaulC seemed to not like very much at all: "We didn't like the location.We didn't like the building.We didn't like the room.We didn't like the staff.We didn't like the service.We didn't like the food.We didn't like the attitude."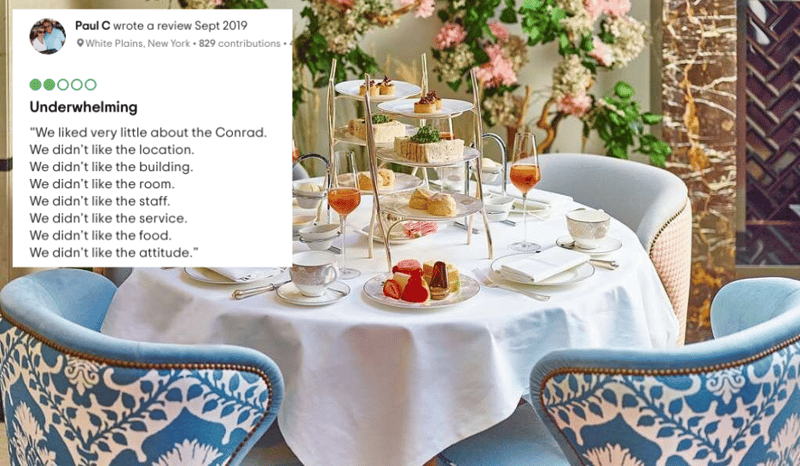 Browns Hotel
Many of the reviews for the Browns Hotel contain generous sentiments about the High Tea served at the restaurant. Luckily, Sururu11 agrees that the "tea preparation is correct," but they did feel obliged to warn future travellers that "the uniforms of the waiters are immaculate, except the butler -a rather pompous- to whom it lacks a button from his jacket."
According to Bompy, Browns is not a place for the under 60's, "I'm sure it's a great place to take granny but doesn't have an environment that anyone under 60 would find fun."
While doing our digging we also uncovered that, unfortunately, Diham is of the opinion that the oldest hotel in london "is not one of London's grand hotels", and specifically states that the "Gym and Spa are small and lack grandour [sic]". While we are not completely sure what a grand gym would look like, we are sure that some of our commentators would have some suggestions.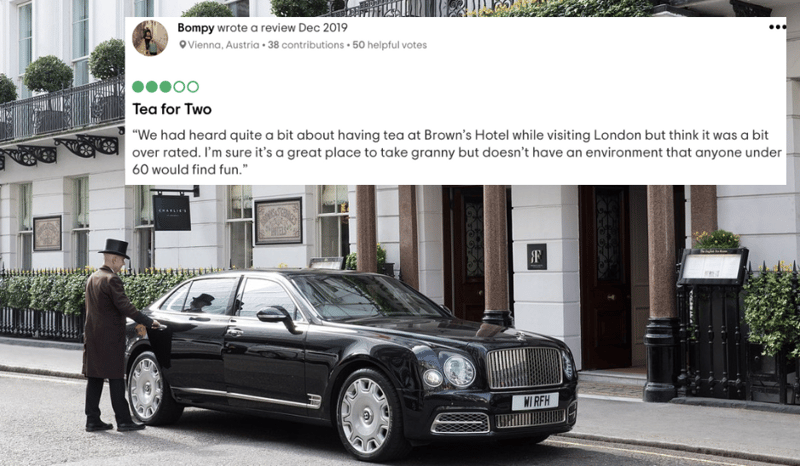 The Dorchester
Again The Dorchester seems to be most complimented, and criticised, about its well-known high tea offering. Unfortunately, it could not live up to the expectations of Cal_Hockley, who was appalled to discover that he was "the only one that was actually dressed exquisitely […] The pianist was really burnt out and the tea was cold and they had the nerve to try and charge me for service as well. Most certainly not GOOD ENOUGH for someone like me with exceptional high standards anyway!!!"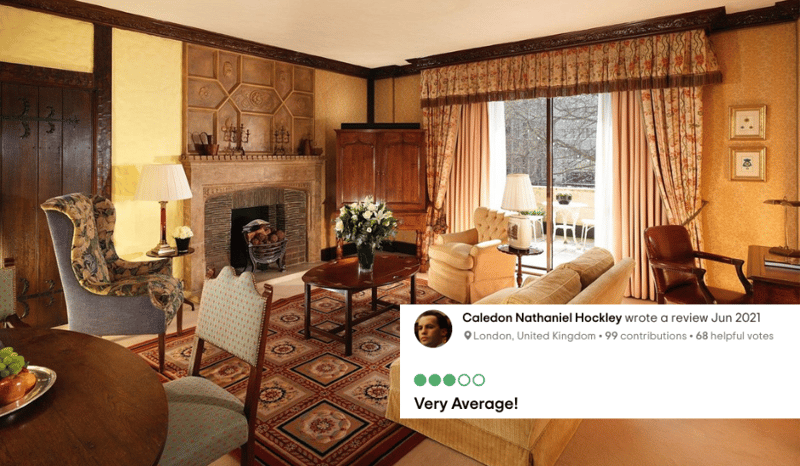 The Ritz London
The name alone conjures up a feeling of luxury, decadence and exceptional service. But alas, this is not the case. According to LordOddie one should "avoid" the Ritz London at all costs. He likens the hotel to a "Disney attraction" with "vulgar and tasteless" decor. Finishing his comments off with the pearl: "The place is no more than a tourist attraction for Americans and Chinese tourists."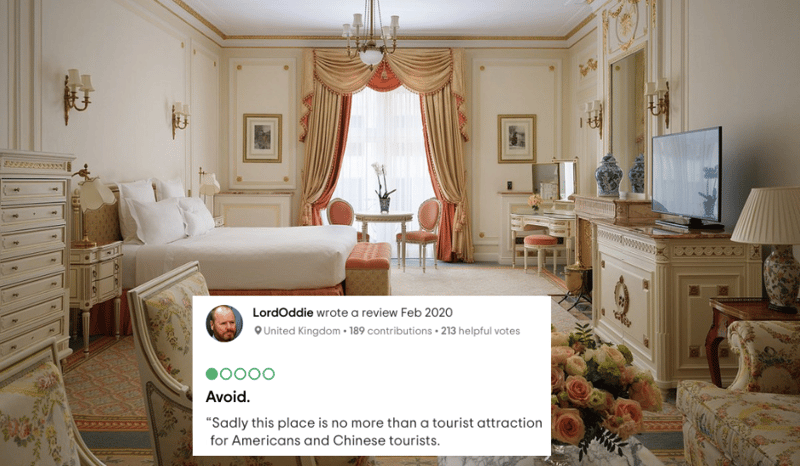 And lastly, while not in London, this gem needed to be added to our list. And no, we are not talking about the hotel, but rather the nugget of gold that is the review from Ericw900, and thier recounts of the "depressing" fruit bowl and lack of free gifts. "The meagre bowl of fruit on arrival was almost depressing. Where was the chocolate? For the price we were paying, the least one should have offered were some gorgeous flowers and chocolates. (I can think of much more, such as the latest Raymond Blanc cookbook, for example?"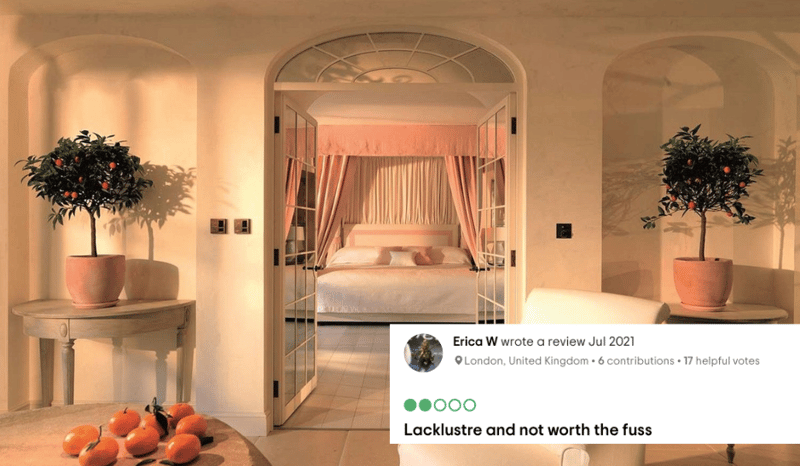 Everyone knows that there are going to be times when things go wrong, and even if they don't, there are also going to be those guests that are simply immune to happiness and common sense (or just want free stuff). A bad review (or even two or three) are not the end of the world, and won't put off most reasonable travellers, as long as you have good reviews to balance them out, and a polite, professional management response to show you care, and can handle a crisis.